Introduction to JUNGHEUNG Group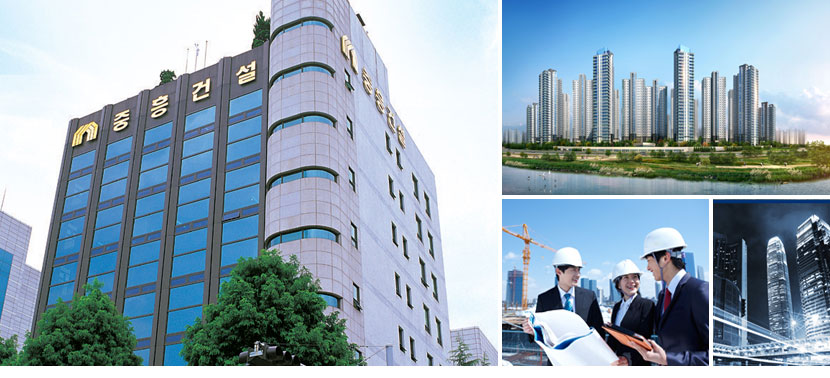 JUNGHEUNG GROUP
IN 1983, JUNGHEUNG HOUSING WAS ESTABLISHED,
AND LATER THE LEGAL FIRMS OF JUNGHEUNG CONSTRUCTION AND
JUNGHEUNG CIVIL ENGINEERING WERE ESTABLISHED
TO HAVE BUILT THE KNOWHOW OF CONSTRUCTION FOR 35 YEARS.
We have increased the insight to look at the land while we were in housing business. We also purchased the land site of good location even before the active housing site development by the government and led the distribution business successfully.

JUNGHEUNG Construction demonstrated its perception to purchase the apartment land sites through the private contract after judging the sufficient value on the business when giant construction companies paid the penalty of tens of billions won for the breach of contracts and gave up while judging its business a low value during the first period of Happy City. Since 2014 when the economy in real estate recovered, the popularity of JUNGHEUNG S-Class apartments continued nationwide. Continuing the complete sales of nationwide JUNGHEUNG S-Class apartments, especially the JUNGHEUNG S-Class was supplied to Happy Cities with 13,000 households until last year, which was the most supply of apartments as for a single brand. In 2018, currently we have been operating nationwide 41 apartment project sites and 13 civil engineering sites.

JUNGHEUNG Construction advanced to the capital area based on the success in Sejong City. We purchased land sites for housing at Gwanggyo new city, Goyang Hyangdong and Jichook, Guro Hang-dong to have started the distribution of apartments. Whenever we gained the profit, we procured the land sites through the way to invest on purchasing land sites for housing. For the diverse business opportunities, we have recorded the contract order of over 3 trillion won for the last three years since the beginning of urban maintenance business in 2015. Now we have been emerged as a strong competitor in the urban maintenance business. This year, we have been in progress of the business with a goal of 1 trillion contract order. We also have accelerated the development project of Pyeongtaek Brain City which is invested with 1.1 trillion won.

JUNGHEUNG Group was designated for a group of giant companies in 2015 for the first time. Currently, total 62 companies belong to the JUNGHEUNG Group with about 1,700 staffs and employees (1,400 field workers). Major subsidiary companies include JUNGHEUNG Civil Engineering, Naju Tourism Development (Gold Lake Country Club, JUNGHEUNG Gold Spa & Resort), and Namdo Ilbo. In 2016, the size of our assets was about 7.6 trillion, and in 2017 8.5 trillion. The sales of the group was added up to 4.5 trillion won in 2016 and 5.4 trillion in 2017. We are ranked 34th in the order of the financial circle in Korea.